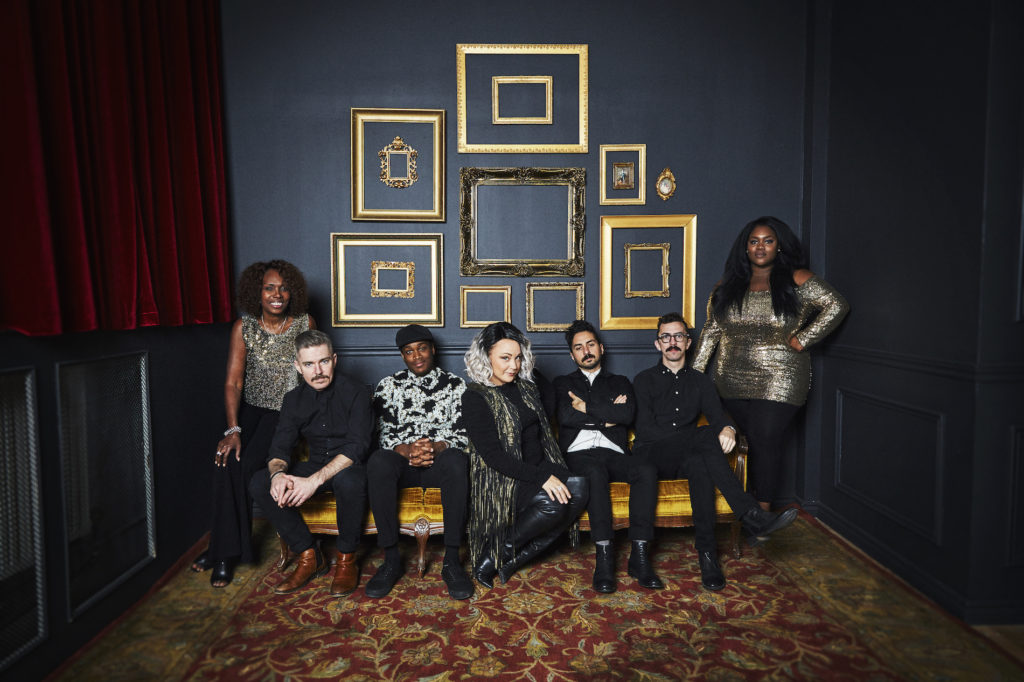 Den 15 Februari inleds 2019-års säsong på Garaget med hårt svängande Samantha Martin & Delta Sugar.
2018 has proven to be the break-out year so long deserved by Samantha Martin and Delta Sugar. In November 2018, it was announced that "Run To Me" has been nominated for 4 Maple Blues Awards at the 2019 edition (Album/Producer of The Year, Songwriter of The Year, Entertainer of The Year, and Female Vocalist of The Year). The group's latest recording, entitled Run to Me, was released in April 2018 via Gypsy Soul Records.
Produced by Darcy Yates (Bassist in Bahamas), the new album explores the full range of the vicissitudes of love: desire, betrayal and, at times, emotional and sexual satisfaction. The lyrics are incisive, the melodies are constantly arresting and the harmonies and arrangements call up the best of the soul sounds of Stax Records and such contemporary artists as Leon Bridges, Sharon Jones, and Lee Fields.
Four months into the release the record already reached #2 on Earshot, #1 on RMR Blues charts and #2 on Stingray's Blues channel. The album has also crossed overseas and managed to sneak into the UK Blues Radio Top40 charts as well as receiving dozens of rave reviews.
With over 500 shows under their belt in the last 4 years, Canadian Independent Music Association (CIMA) has recently honored Samantha Martin and Delta Sugar with the certification "Road Gold." CIMA certifies Canadian artists as "Road Gold" when they have sold over 25 thousand tickets to Canadian fans over a twelve-month period.
Samantha Martin and Delta Sugar's debut release, 2015's Send the Nightingale, was a stripped down affair consisting of Martin, her two co-singers Sherie and Stacie, and guitarist Mikey McCallum. For Run to Me, Martin elected to record her emotionally wrought material with an expanded band, augmenting the core of Delta Sugar's gospel-infused harmonies with a full rhythm section, piano, organ and an ever-so-soulful horn section.
Send the Nightingale was a stunning achievement which garnered four Maple Blues nominations in 2016, was regularly featured on the CBC, topped the blues charts on Stingray radio and propelled the group onto the stages of all the major Canadian festivals and clubs coast to coast. Subsequent to the album's release, Martin has been nominated three years in a row as Female Vocalist of the Year at the Maple Blues Awards. Continuing to build on the group's steam rolling momentum, in the fall of 2017, Samantha Martin and Delta Sugar were selected by a panel of blues experts to represent Toronto at the International Blues Challenge in Memphis, a platform that has served to launch any number of careers in both Europe and the United States.
After performing 130 high energy "soul revue" style shows in the US and Canada in 2017, and buzz-worthy showcases at both Americana (Sept. 2017) and at The International Blues Challenge in Memphis (Jan. 2018) – Samantha is now building her European fan base with two full length European tours scheduled before February 2019. The live show is a torrid force of nature, taking audiences to emotional peaks while leaving them stunned with pin-you-against-the-wall power.
Köp biljett: 170 kr
15 Mars – Christian Kjellvander





Den 15 Mars är vi otroligt stolta att få presentera Christian Kjellvander till Garagets scen.
I dessa tider, skuggade av mörka moln, fyllda av marginalisering och isolering är artister som Christian Kjellvander mycket nödvändiga för vår själsliga frälsning. Han omfamnar det främmande, okända och söker en känsla av medmänsklighet. Den 26 oktober släpps hans nya album Wild Hxmans och i anslutning till det ger sig även Christian ut på vägarna.
Genom sju råa och övertygande låtar i gränslandet mellan folk, blues, americana och jazz talar Kjellvander till oss om avsked, flykt och sensationen i att anlända till en ny värld. Tillsammans med sitt band skapar 42-åringen ett sound som andas ett pulserande lugn, samtidigt som han slänger sig huvudstupa mellan intimitet och ett dynamiskt, djupt mörker. I stunder känns det som om musiken försvinner, för att sedan blixtsnabbt åter komma till ytan, glänsande transparent.
De mångfacetterade låtarna bärs upp av Christian Kjellvanders distinkta röst, som bär ekon av Leonard Cohen, Tim Hardin and David Sylvian. En röst, så smärtsamt närvarande, som lyser ännu starkare i den blixtrande övertygelsen om att känslor – rutinmässigt dolda i vardagen – kommer att stiga till ytan.
Wild Hxmans är inspelad i Christians hem och studio under en vecka i maj 2018 och släpptes 26 oktober till kritikernas hyllning.
5/5 DN, "Det är vansinnigt fint och låter som om det bara har råkat falla på plats precis så här"
4/5 VF
8/10 Sonic, "Styrkebesked från en av våra stora konstnärer"
4/5 Aftonbladet, "Den sju låtar långa sviten hör till det allra bästa han har spelat in."
4/5 Dagens Industri
4/5 Ikon, "En mycket mäktig skiva"
4/5 Sydsvenskan
Köp biljett: 295 kr




Den 30 Mars hälsar vi stolt Sir Reg välkomna tillbaka till Garaget.
SIR REG is an energetic six piece from Sweden fronted by Irishman Brendan Sheehy on vocals, who left his home-town of Dublin to come to Sweden to fulfill his dream – to put together the most amazing band possible.
With songs about everything from the issues of modern day society to finding the right bar on a Saturday night, combined with strong melodies and explosive live shows, SIR REG have made a name for themselves in the Celtic punk and rock scene.
Since the birth of the band in 2009 they have released four critically acclaimed albums and have performed on many of Europe's biggest stages alongside bands like The Mahones, The Misfits, Thin Lizzy and The Real McKenzies.
The latest release 'The Underdogs' (2018) deals with the struggles and fighting of the ordinary men and women, to make their voice heard and their opinions count, whilst not losing their spirit and ability to enjoy the simpler things in life, like hanging out with friends at their favourite bar on a Saturday night.
Köp biljett: kr




Den 18 Maj är vi mycket stolta att hälsa Eric Lindell välkommen till hembygden och Garaget. Hembygden kanske ni undrar? Jo, Erics farfar härstammar nämligen från Avesta, men emigrerade till USA.
With his raspy, soulful voice and instantly memorable original songs, roots-rocking multi-instrumentalist Eric Lindell is a true one-of-a-kind talent. Mixing West Coast rock and swampy Gulf Coast R&B with honky tonk country and Memphis soul, Lindell creates American roots music that is both surprisingly fresh and sweetly familiar. Since his first self-release over two decades ago, Lindell has earned critical and popular acclaim, first in his dual home bases of Louisiana and Northern California and then across the country. Although influenced by American roots music from blues to country to rock, Lindell's style is all his own. He has performed thousands of gigs in roadhouses, clubs, concert halls and festivals and has appeared on national radio and television. His live shows overflow with happy, dancing people singing the words to every song.
Born in San Mateo, California in 1969, Lindell spent countless hours in San Francisco, soaking up the musical sounds of the city, eventually leading him to pick up first the bass and then the guitar and harmonica. With a love of music and skateboarding, Lindell formed a few punky garage bands early on while his musical horizons expanded. He listened to the deep blues of Buddy Guy, Junior Wells, Jimmy Reed and Albert King before drifting toward the R&B sounds of The Impressions, Stevie Wonder and Donny Hathaway, soaking up the soul and learning how to craft a song. After performing at bars on the West Coast with a few short-lived bands, Eric formed his own group in 1993. He quickly gained a loyal Northern California audience thanks to countless performances and many late-night jam sessions. Established stars like Charlie Musselwhite and Tom Waits attended his shows, as did overflow crowds of music fans.
Following his muse, Lindell drifted to New Orleans, Louisiana in 1999, bringing his sound and style with him. He performed wherever and whenever possible, often playing the dive bars in Gretna and Algiers. Word of Lindell's singular talents quickly spread around the region. Artists including Branford Marsalis and The Neville Brothers began showing up at his gigs, and some of New Orleans' finest players, including keyboardist Ivan Neville, often joined him on stage. Galactic's Stanton Moore and Rob Mercurio, among many area musicians, became his admirers and then his friends. Since 2003, in addition to his own gigs, Lindell regularly joins forces with Neville, Moore and Mercurio (when time and schedules permit) and they perform to overflow crowds as Dragon Smoke.
By the time of his 2006 Alligator Records debut, Change In The Weather, Lindell had released five albums and already had earned a devoted and growing fan following. Change In The Weather, with its unforgettable songs and undeniable melodies, earned him regular radio rotation and piles of critical praise. The Los Angeles Daily News said Lindell plays "passionate blue-eyed soul smothered with a big heap of New Orleans funk." Two subsequent Alligator releases and a series of albums on other labels kept Lindell in demand and on the road. Now Lindell returns to Alligator with Revolution In Your Heart, featuring his most engaging and personal writing and his most irresistible, instantly hummable melodies.
Revolution In Your Heart was recorded at Studio In The Country in Bogalusa, Louisiana and produced by Lindell and Benjamin Mumphrey. On Revolution In Your Heart, Lindell plays everything on the recording—guitar, bass, keyboards, organ, harmonica—except drums, which are expertly played by Willie McMains. The only other musician on the record is keyboardist Kevin McKendree (Delbert McClinton, Brian Setzer Orchestra, Tinsley Ellis), who plays piano on Millie Kay. The twelve universally relatable original songs—many of them autobiographical—combine sunshiny melodies and thick, greasy grooves, and paint vivid pictures of day to day living. From the honest and sage title track to the long-ago but still fresh memories of Grandpa Jim, Pat West and Kelly Ridge, Revolution In Your Heart feels not only somehow immediately familiar, it's also profoundly moving. Asked about the timeless appeal of his songs, Lindell simply says, "Music runs deep, it's a powerful thing."
Lindell's music has been described by USA Today as "pumping soul into funk, blue and roots-rock." (April 23, 2009). The Chicago Sun-Times called Lindell "a tremendous raw talent…with a fully realized musical vision." (January 20, 2008). The Los Angeles Daily News stated "Lindell serves up bluesy blue-eyed soul smothered with a big heap of New Orleans funk… The shuffling interplay of electric guitars, percolating organ and Creole horns never fails to make you feel like dancing all the way down Canal Street." (January 27, 2008)
"Impressive super slinky blues and rock with a taste of country twang. Bound to win over roots music fans for years to come" —Guitar Player
"Stellar, sublime blue-eyed soul and romping New Orleans R&B, played at the intersection of soul, blues and roots rock" —New Orleans Times-Picayune
Köp biljett: kr
Den 31 Maj hälsar vi dessa coola lirare välkommna till Garaget; The Reputations.
The Reputations are the culmination of many years of combined experience in the Austin music scene. With rock and roll, pop, and soul tones reminiscent of the late 60's and 70's, members of bands such as The Bad Lovers and Bobby Jealousy have come together to cultivate a new groove for Austin.
Their new record – Electric Power – released November 9, 2018 on Nine Mile Records. It was recorded and mixed at legendary Ardent Studios in Memphis, TN and produced by none other than Jody Stephens of Big Star (his first ever production credit!).
Köp biljett: kr
På Spotify-listan nedan kan ni lyssna på alla artister som spelat på Garaget sedan starten 2006.
Vi får en del frågor angående medlemskapet, speciellt från personer som inte bor i närområdet. Så här ligger det till: Man måste vara medlem för att komma in på våra arrangemang. Att bli medlem är dock enkelt, klicka på "Bli medlem" här ovan, fyll i dina uppgifter så får du snart ett bekräftelse-mail med information om hur du går vidare. Ni kan då, vilket vi rekommenderar, betala in 250 kr för ett fullt medlemskap till bankgiro 5890-4038 eller swisha till 123 345 36 10. Ni kan också lösa ett "förenklat medlemskap", riktat till er som kanske inte bor i närområdet och/eller bara tänker besöka ett arrangemang i år. Ni får då betala ordinarie biljettpris + 100 kr för det "förenklade medlemskapet". Detta "förenklade medlemskap" kan nyttjas vid flera arrangemang (ni betalar alltså en förhöjd entré på 100 kr vid varje arrangemang ni besöker). Ska ni gå flera gånger så tjänar ni naturligtvis på att lösa ett fullt medlemskap.
Välkomna med er ansökan.