Den 27 April presenterar vi Side Effects på Garagets scen.
De har kompat artister som Hurula, Ebbot Lundberg, Union Carbide Productions och Sibille Attar under pseudonymen "The Indigo Children". Nu senast kunde man se bandet uppträda på Grammis 2018 och i TV-programmet "Ebbots Ark".
Side Effects består av fyra 25-åriga killar som började spela tillsammans för 10 år sedan, även om de började släppa musik först 2013. De berättar att den nya musiken har bredare referenser då de nyligen upptäckt att musik skrevs även efter år 1969.
På frågan hur bandet ser på sin långa karriär uppstår en lättare diskussion:
Jorba – karriär och karriär vet jag inte
Elias – Ny ribba för karriär, spelat på Debaser Medis en gång
Jorba – "kanske en skiva till kommer – vem vet"
Elias – Ja in med lite ironi i detta nu! Hatar presstexter där ett litet band försöker få det att låta som att dom är svinstora. Fast alla vet att dom inte är det.
Jorba – haha ja, väldigt sant.
Elias – Roligare då att säga att det har gått åt helvete hittills och det är ett under att dom spelar ihop fortfarande"
I januari släpptes andra fullängdsalbumet och bandet har precis avslutat en omfattande Tysklandsturné tillsammans med svenska bandet Friska Viljor.
Som uppvärmare ser vi Betty Goes A Go-Go från Borlänge.
Equally inspired by electronic acts like Chemical Brothers and Leftfield as the roots- and world music community, Betty Goes A Go-Go ends up with an eclectic psychedelia similar to the sounds of Gorillaz, Death In Vegas and UNKLE.
Formed in '99 as a punk band with a psychedelic touch, they almost instantly got a record deal with stoner rock label Molten Universe Records for whom they released three albums alongside bands like Dozer and Greenleaf. After changing much of the guitars for synthesizers and even more trippy soundscapes, they eventually got dropped, but continued to release their records on Swedish indie label Coming Ohm. In 2004 they contributed a song to the controversial series Getaway where sport cars race through inner cities. Alongside playing live, they also collaborated with Sweden's at the time biggest festival Peace & Love during 2010-2012, as Betty recorded music for them to play in-between shows and for commercial shorts. In 2012 they also contributed a song to the magazine Slitz that shot one of their commercial films in Spain. Other commercial jobs include the absinthe label Valkyria, the fanzine OHM ZINE and various remix jobs.
Betty Goes A Go-Go has since become more of a musical collective, revolving around member Erik Dåverud and involving various guests and collaborators such as Linche, I-King, Follow Him To the End Of the Desert and many more.
Köp biljett: 215 kr




Den 18 Maj är vi mycket stolta att hälsa Eric Lindell välkommen till hembygden och Garaget. Hembygden kanske ni undrar? Jo, Erics farfar härstammar nämligen från Avesta, men emigrerade till USA.
With his raspy, soulful voice and instantly memorable original songs, roots-rocking multi-instrumentalist Eric Lindell is a true one-of-a-kind talent. Mixing West Coast rock and swampy Gulf Coast R&B with honky tonk country and Memphis soul, Lindell creates American roots music that is both surprisingly fresh and sweetly familiar. Since his first self-release over two decades ago, Lindell has earned critical and popular acclaim, first in his dual home bases of Louisiana and Northern California and then across the country. Although influenced by American roots music from blues to country to rock, Lindell's style is all his own. He has performed thousands of gigs in roadhouses, clubs, concert halls and festivals and has appeared on national radio and television. His live shows overflow with happy, dancing people singing the words to every song.
Born in San Mateo, California in 1969, Lindell spent countless hours in San Francisco, soaking up the musical sounds of the city, eventually leading him to pick up first the bass and then the guitar and harmonica. With a love of music and skateboarding, Lindell formed a few punky garage bands early on while his musical horizons expanded. He listened to the deep blues of Buddy Guy, Junior Wells, Jimmy Reed and Albert King before drifting toward the R&B sounds of The Impressions, Stevie Wonder and Donny Hathaway, soaking up the soul and learning how to craft a song. After performing at bars on the West Coast with a few short-lived bands, Eric formed his own group in 1993. He quickly gained a loyal Northern California audience thanks to countless performances and many late-night jam sessions. Established stars like Charlie Musselwhite and Tom Waits attended his shows, as did overflow crowds of music fans.
Following his muse, Lindell drifted to New Orleans, Louisiana in 1999, bringing his sound and style with him. He performed wherever and whenever possible, often playing the dive bars in Gretna and Algiers. Word of Lindell's singular talents quickly spread around the region. Artists including Branford Marsalis and The Neville Brothers began showing up at his gigs, and some of New Orleans' finest players, including keyboardist Ivan Neville, often joined him on stage. Galactic's Stanton Moore and Rob Mercurio, among many area musicians, became his admirers and then his friends. Since 2003, in addition to his own gigs, Lindell regularly joins forces with Neville, Moore and Mercurio (when time and schedules permit) and they perform to overflow crowds as Dragon Smoke.
By the time of his 2006 Alligator Records debut, Change In The Weather, Lindell had released five albums and already had earned a devoted and growing fan following. Change In The Weather, with its unforgettable songs and undeniable melodies, earned him regular radio rotation and piles of critical praise. The Los Angeles Daily News said Lindell plays "passionate blue-eyed soul smothered with a big heap of New Orleans funk." Two subsequent Alligator releases and a series of albums on other labels kept Lindell in demand and on the road. Now Lindell returns to Alligator with Revolution In Your Heart, featuring his most engaging and personal writing and his most irresistible, instantly hummable melodies.
Revolution In Your Heart was recorded at Studio In The Country in Bogalusa, Louisiana and produced by Lindell and Benjamin Mumphrey. On Revolution In Your Heart, Lindell plays everything on the recording—guitar, bass, keyboards, organ, harmonica—except drums, which are expertly played by Willie McMains. The only other musician on the record is keyboardist Kevin McKendree (Delbert McClinton, Brian Setzer Orchestra, Tinsley Ellis), who plays piano on Millie Kay. The twelve universally relatable original songs—many of them autobiographical—combine sunshiny melodies and thick, greasy grooves, and paint vivid pictures of day to day living. From the honest and sage title track to the long-ago but still fresh memories of Grandpa Jim, Pat West and Kelly Ridge, Revolution In Your Heart feels not only somehow immediately familiar, it's also profoundly moving. Asked about the timeless appeal of his songs, Lindell simply says, "Music runs deep, it's a powerful thing."
Lindell's music has been described by USA Today as "pumping soul into funk, blue and roots-rock." (April 23, 2009). The Chicago Sun-Times called Lindell "a tremendous raw talent…with a fully realized musical vision." (January 20, 2008). The Los Angeles Daily News stated "Lindell serves up bluesy blue-eyed soul smothered with a big heap of New Orleans funk… The shuffling interplay of electric guitars, percolating organ and Creole horns never fails to make you feel like dancing all the way down Canal Street." (January 27, 2008)
"Impressive super slinky blues and rock with a taste of country twang. Bound to win over roots music fans for years to come" —Guitar Player
"Stellar, sublime blue-eyed soul and romping New Orleans R&B, played at the intersection of soul, blues and roots rock" —New Orleans Times-Picayune
Köp biljett: 180 kr
31 Maj – The Reputations (US) + Broder Henrik Rapp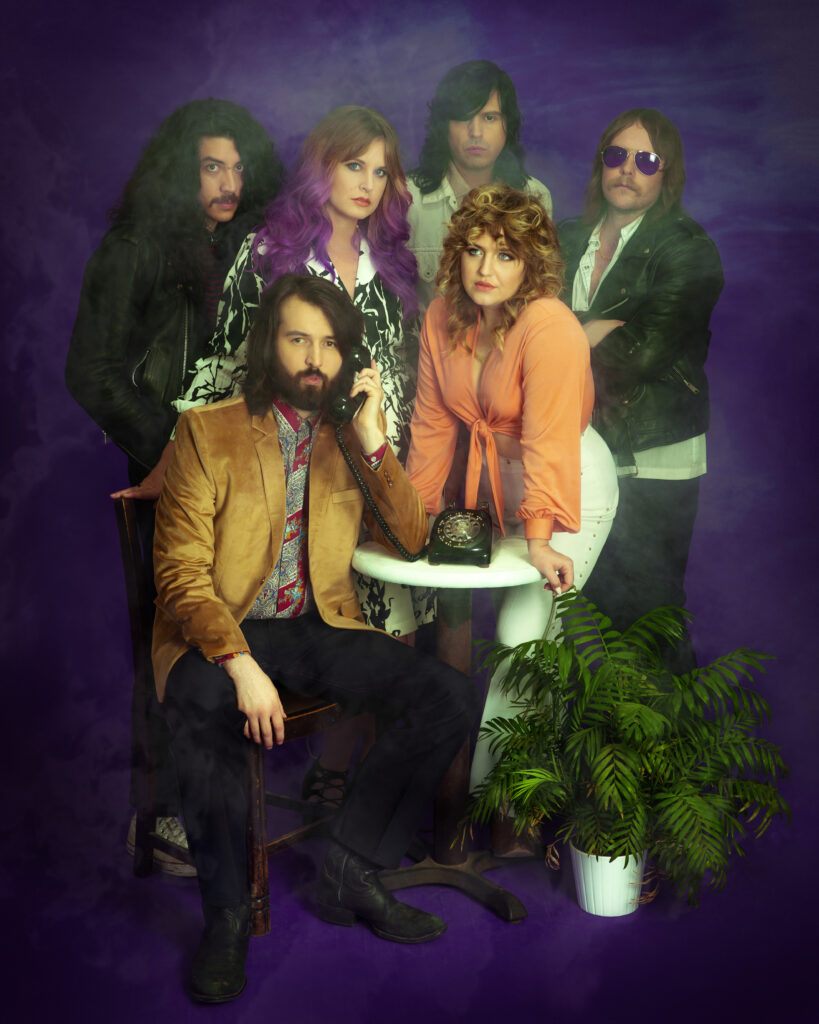 Den 31 Maj hälsar vi dessa coola lirare välkommna till Garaget; The Reputations.
The Reputations är högspänning. Denna kvintett från Austin, Texas, bygger upp en elektrifierande ljudbild på en grund av rock'n'roll, powerpop och soul. The Austin Chronicle säger så här, en träffande beskrivning som sätter fingret på bandets förmåga att leverera harmonier i ett slagkraftigt format: "Shoulder-shaking AM pop with invigorating, five-voice melodies. It sounds like a long lost best-of from a 60's family band – but atop modern energy."
Att The Reputations kommer från den kokande gryta av musik som Austin är råder det ingen tvekan om när deras toner ekar. Men med tanke på musiken de spelar fanns det egentligen bara en stad ett band som detta hade siktet inställt på: Memphis, Tennessee.
Att The Reputations andra platta, "Electric Power", kom att spelas in i staden föll sig därför naturligt. Kvintetten riggade upp för inspelning i det legendariska studiokomplexet Ardent Studios. Med sig hade bandet Jody Stephens, känd för att ha varit trumslagare i det band som signifikant utvecklade popmusiken under 1900-talets andra hälft, nämligen Big Star. Med Stephens som konstnärlig ledare fick The Reputations ett sound som flörtar med 60-talets sväng, men samtidigt är i musikalisk framkant, inte helt olikt just Big Star.
För att understryka bandets förmåga att blanda det gamla med det nya faller orden från The Austin Monthly helt rätt i sammanhanget: "The Reputations have crafted a rare, real rock'n'roll record informed by the work of Big Star and Blondie."
Som uppvärmare ser vi Broder Henrik Rapp.
Köp biljett: 210 kr
7 September – Horndal + TheNighttimeProject
Den 7 September välkomnar vi hemmasönerna i Horndal och TheNighttimeProject till Garaget
The sludgy and metallic hardcore band Horndal tells the true horror story about the devil's extermination of their hometown. Their debut EP, recorded by Steve Albini was released 2017. Now their first full-length REMAINS is unleashed upon the world via Prosthetic Records.
Horndal is, or was, a small industrial town in the Swedish woods. In the late seventies the steel mill that employed almost the entire population was threatened with closure. To protest against this a local theatre group wrote and performed a play about this disastrous event. The story portrays the devil coming to shut down the steel mill, leave the exploited factory workers to their fate and send the community to an early grave. Sadly the story came true. The factory was closed and the town left for dead. Long live Horndal.
2010-2016: Not straying far from his most notable roots, Fredrik "North" Norrman founded Thenighttimeproject — a pleasantly nostalgic road for those more familiar with his work in Katatonia. Joined by Tobias Netzell of In Mourning fame, along with Nicklas Hjertton, formerly of Mandylon, their self-titled debut album is released in January 2016. The album receives standing ovations from the press, and with a mix of rock, metal, progressive, doom, post-rock and psychedelic elements it is indeed an interesting ride for the listener.
2017: The band releases the single Anti Meridian. Mattias Norrman (October Tide) joins the band on bass. Later this year Tobias and Nicklas decide to leave the band due to lack of time.
2018: Joined by Jonas Sköld (October Tide, Letters From The Colony) on drums and vocalist Alexander Backlund (Letters From The Colony) the band is now working on the follow up to the debut album as well as rehearsing for live shows.
Köp biljett: kr
På Spotify-listan nedan kan ni lyssna på alla artister som spelat på Garaget sedan starten 2006.
Vi får en del frågor angående medlemskapet, speciellt från personer som inte bor i närområdet. Så här ligger det till: Man måste vara medlem för att komma in på våra arrangemang. Att bli medlem är dock enkelt, klicka på "Bli medlem" här ovan, fyll i dina uppgifter så får du snart ett bekräftelse-mail med information om hur du går vidare. Ni kan då, vilket vi rekommenderar, betala in 250 kr för ett fullt medlemskap till bankgiro 5890-4038 eller swisha till 123 345 36 10. Ni kan också lösa ett "förenklat medlemskap", riktat till er som kanske inte bor i närområdet och/eller bara tänker besöka ett arrangemang i år. Ni får då betala ordinarie biljettpris + 100 kr för det "förenklade medlemskapet". Detta "förenklade medlemskap" kan nyttjas vid flera arrangemang (ni betalar alltså en förhöjd entré på 100 kr vid varje arrangemang ni besöker). Ska ni gå flera gånger så tjänar ni naturligtvis på att lösa ett fullt medlemskap.
Välkomna med er ansökan.