Den 28 Februari hälsar vi Papa Dee välkommen tillbaka till Garaget.
Papa Dees största hits är: Ain't No Substitute, First Cut is the Deepest och Island Rock
Det är en härlig blandning av olika stilar som reggae, ragga, hip hop, ska, rocksteady, soul, funk, pop och allt som låter bra.
Papa Dee, född som Daniel Wahlgren den 13 Juli 1966. Hans mamma är Svenska och hans Pappa från Ghana. Efter att ha inlett sin karriär som sångare/rappare med Stonefunkers och Titiyo, så tog hans solokarriär fart med hits som "Competition is None", "Microphone Poet", "Ain't No Stoppin' Us Now" och "Ain't No Substitute". Debut albumet, "Lettin' Off Steam" sålde guld i Sverige. "Shabba Ranks, eat your heart out", skrev TimeOut Magazine om albumet. Papa Dee lämnade sedan Sverige, först för att turnéra i USA och England. Där han öppnade för Ziggy Marley, Shinehead och Steel Pulse. 1993 flyttade han från London till New York där han blev medlem i Brooklyn Funk Essentials. Efter 5 år i NYC flyttade han tillbaka till Sverige, men han är fortfarande medlem i bandet.
Han har även släppt dub-albumet, "Dub-Check", inspelat på Jamaica och i New York och arbetat med bl.a Leftfield, Arthur Baker, Mad Professor, Mafia + Fluxy, Papa Levy, Shelley Thunder, Lady Saw, Richie Stephens, Degree, Danny English och Tanya Stephens.
Han är även med i rockbandet Ringo Franco.
Papa Dee kommer med ett mycket bra band och kommer att spela mycket från den nya skivan som beräknas komma ut våren 2020.
Den nya skivan har spelats in i Kalle Baahs studio Red Hut Studios med trummisen/producenten Janne Karlsson.
Enda spåret från projektet som är släppt hittills är låten 'Någon som dig', Papa Dees första och enda låt på svenska hittills. Låten släpptes 2017.
Bandet består av:
Anders Kappelin – Bas (Weeping Willows, Syster Sol mfl)
Janne Karlsson – Trummor (Kalle Baah)
Lennart "Lelle" Wastesson – Gitarr (Liondub)
Philip Neterowitcz –  Keyboards (Syster Sol mfl)
Köp biljett: 240 kr
13 Mars – Entombed A.D. + Interment OBS! UTSÅLT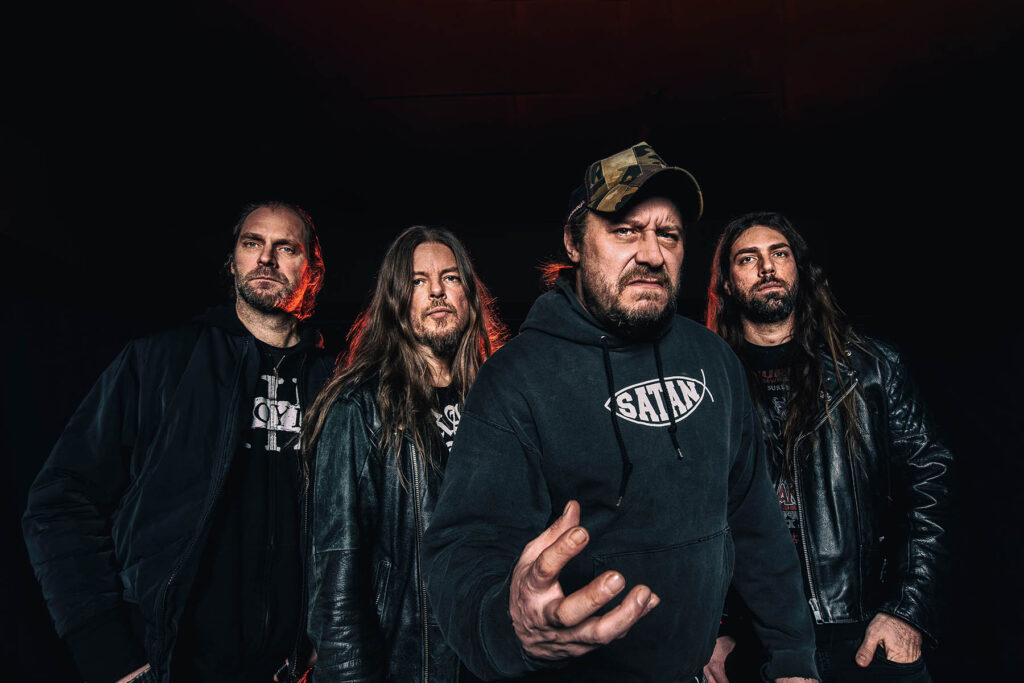 Fredag den 13 Mars presenterar vi stolt Entombed A.D. välkomna till Garaget.
If you don't know ENTOMBED A.D., the deadly sonic force fronted by former Nihilist/Entombed vocalist L-G Petrov, well, then you're either no metalhead, slept under a rock since the late 80's or have already gone the way of all flesh with crawling swarms of maggots deliciously peeling every single bit of meat from your sorry bones.
ENTOMBED A.D.'s legacy goes way back into the year 1987 when the band originally formed under the name Nihilist. In 1989, the group changed its name to Entombed and together with Morbid (for whom singer L-G played drums), Treblinka/Tiamat, Grave, Unleashed, Dismember, they established themselves as masters of Swedish death metal before flavoring the trademark "Stockholm sound" with a more punkish, rocking edge that culminated in the ultimate death 'n' roll classic "Wolverine Blues" in 1993, an album still very much present in the band's current sound.
Inspired by such diverse acts as Autopsy, Motörhead, Discharge or Kiss, over the years Entombed did not shy away from thinking outside of the coffin resulting in a style some fans called death'n'roll but in the end it was, is and will just be a band with a style and impact entirely their own.
With two full-length album under the new persona, Back to the Front (2014) and Dead Dawn (2016), ENTOMBED A.D are poised to return with one of 2019's most devastating, deathly statements. Their new album "Bowels Of Earth" represents a huge leap forward for these gnarly veterans. Faster, tighter and more viscerally crushing than anything they have produced before.
Som uppvärmare får vi old school dödsmangel från Avestas finest Interment.
Köp biljett: 310 kr
Fredag den 3 April presenterar vi stolt Supersuckers välkomna till Garaget.
If you don't like the Supersuckers, you don't like Rock-N-Roll.
-Lemmy Kilmister from Motorhead
"You've heard our name, you've seen our records, our t-shirts and our stickers. We're probably the favorite band of someone you know and yet maybe we're still a mystery to you. Well my friend, that's okay, you're at the right place to get to know the greatest rock-n-roll band in the world, The Supersuckers."
"And the next time you see the 'Supersuckers' name, whether it's in the record store, online somewhere, or on the marquee at your local rock club, know that there's some quality, honest, ass-kicking, hard working individuals behind it all trying to make your life a little better through the "Evil Powers Of Rock-n-Roll" (and the occasional detour into the country music, of course) and we'd love nothing better than to have you there with us as! Just remember to wear clean underwear, because we're gonna rock your pants right off of you."
– Eddie Spaghetti, Rock Guy
The Supersuckers
They played my birthday party. They rock!
-Eddie Vedder from Pearl Jam
One of the few outfits that can call itself "The World's Greatest Rock 'n' Roll Band!" and actually get away with it, the Supersuckers eat Marshall stacks and cowboy hats and s**t out high-volume ass-kickery, Motörheading country music and Willie Nelsoning garage-punk better than virtually anyone else, ever.
– Philadelphia Weekly
Köp biljett: 240 kr
Den 9 Maj presenterar vi Crash Nomada på Garaget.
Crash Nomada is a folk punk band based in Stockholm, Sweden. They are known for their mix of punk rock and different kinds of folk music from around the world.
The core of the band formed in 2006 and quickly gained a reputation for their wild and intense live performances. The debut album Atlas Pogo was released in 2012, followed by the Broar EP in 2013 as well as several singles.
The band is multilingual, but has mostly released songs in English and Swedish. In 2017 Crash Nomada collaborated with the Egyptian singer Maryam Saleh and released the song Leih Ya Hamam which probably is the first duet ever in Arabic and Swedish.
In 2018 the second, self titled, album was released to critical acclaim. The album was produced by Jari Haapalainen and pointed in a direction towards more emphasis on the lyrics and songwriting as well as a heavier post punk vibe. The album was voted album of the year by several critics in Sweden.
På Spotify-listan nedan kan ni lyssna på alla artister som spelat på Garaget sedan starten 2006.
Vi får en del frågor angående medlemskapet, speciellt från personer som inte bor i närområdet. Så här ligger det till: Man måste vara medlem för att komma in på våra arrangemang. Att bli medlem är dock enkelt, klicka på "Bli medlem" här ovan, fyll i dina uppgifter så får du snart ett bekräftelse-mail med information om hur du går vidare. Ni kan då, vilket vi rekommenderar, betala in 250 kr för ett fullt medlemskap till bankgiro 5890-4038 eller swisha till 123 345 36 10. Ni kan också lösa ett "förenklat medlemskap", riktat till er som kanske inte bor i närområdet och/eller bara tänker besöka ett arrangemang i år. Ni får då betala ordinarie biljettpris + 100 kr för det "förenklade medlemskapet". Detta "förenklade medlemskap" kan nyttjas vid flera arrangemang (ni betalar alltså en förhöjd entré på 100 kr vid varje arrangemang ni besöker). Ska ni gå flera gånger så tjänar ni naturligtvis på att lösa ett fullt medlemskap.
Välkomna med er ansökan.