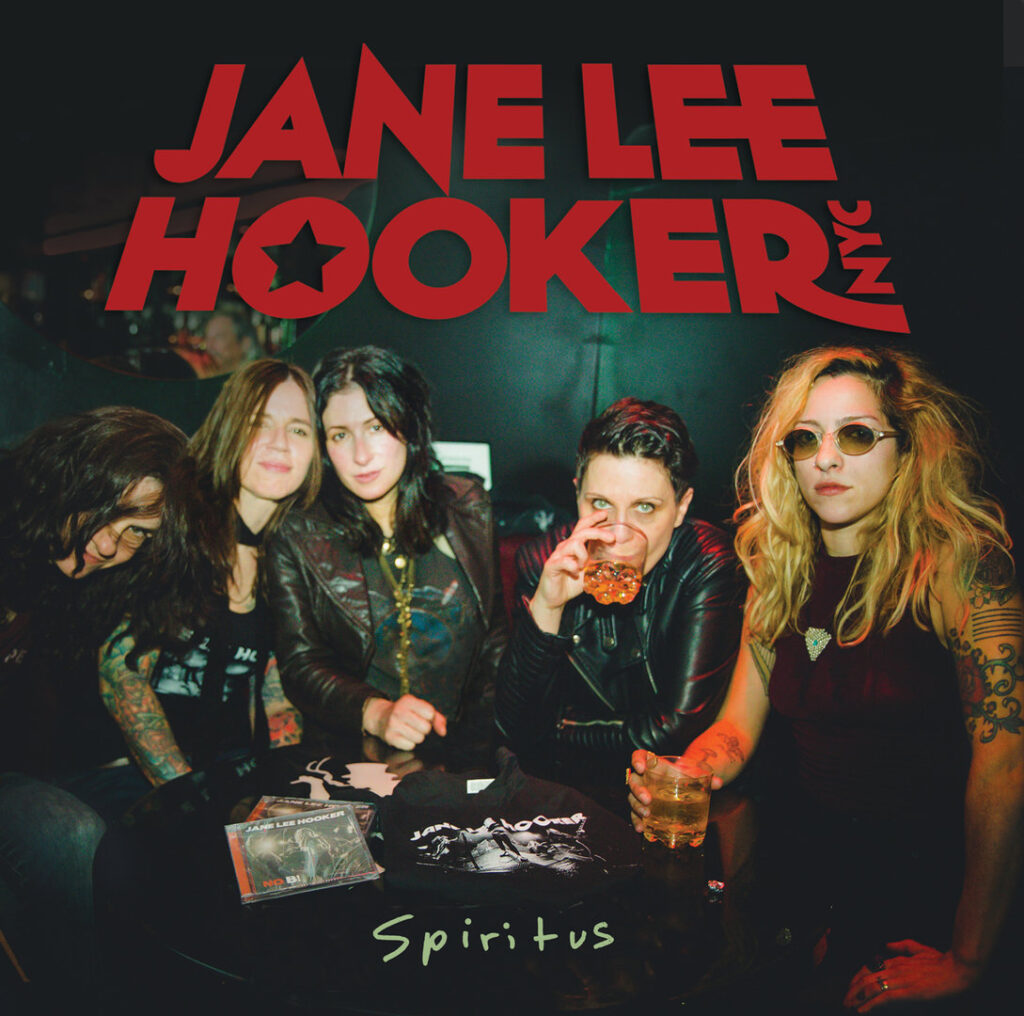 Den 2 Augusti är vi stolta att presentera de fem tuffa New York tjejerna i Jane Lee Hooker till Garagets scen.
Fusing modern attitude with vintage swagger, Jane Lee Hooker exploded off the NYC club scene with 2016's No B! – a debut album whose rocket-fueled blues won acclaim from both Rocks Magazine and American Blues Scene, and led them onto major stages like Rockpalast in Germany, Mountain Jam, and The Big Blues Bender.
The five members have pedigree to burn, turning heads and tearing up stages in seminal bands from Nashville Pussy to Bad Wizard. But when Dana 'Danger' Athens (vocals), Hail Mary Z (bass), 'Cool Whip' Houston (drums), Tracy Hightop (guitar) and Tina 'T-Bone' Gorin (guitar) hooked up in 2013, they swore a blood pact to take JLH all the way.
"We're a gang. We're a family."
Their second album, Spiritus (Ruf Records) finds the band writing their own entry into the great rock 'n' roll songbook. The album was written by the band as a unit, and they hit the studio with producer Matt Chiaravalle then set the controls to 'GO.'
"We wanted this album to sound like we do live – raw and high energy."
On 'How Ya Doin'', Dana treats this studio album like a live show, bantering with an imagined crowd over revving guitars and hand-claps, 'Gimme That' is a Stones-worthy swagger that blooms into a stomp-and-holler climax, while 'Mama Said' features dueling guitars, rumbling bass, and a defiant pick-yourself-up lyric. 'Be My Baby' rides on a cool-as-hell guitar part, then there's 'Black Rat', a blues-on-speed riot with Dana firing her vocal like a machine gun.
In an album of impressive stylistic shifts, there's also 'The Breeze', a nine-minute blues slow-burner that allows the band to stretch out. 'How Bright The Moon' is a marked change of pace; starting out with piano and a tender, nuanced vocal, which breaks into a roaring soul torch-song, and 'Later On' showcases the band's ability to hold back, building dynamic tension, leaving room for Dana's powerful voice to take the lead.
JLH has played to packed houses in Germany, Switzerland, France, Luxembourg, Bosnia, Denmark, Austria, the Netherlands, Belgium, and the Czech Republic.
They are currently touring the U.S. and Europe in support of Spiritus.
Som uppvärmare ser och hör vi Dalabandet Ceci Noir
Köp biljett: 175 kr
7 September – Horndal + TheNighttimeProject
Den 7 September välkomnar vi hemmasönerna i Horndal och TheNighttimeProject till Garaget
The sludgy and metallic hardcore band Horndal tells the true horror story about the devil's extermination of their hometown. Their debut EP, recorded by Steve Albini was released 2017. Now their first full-length REMAINS is unleashed upon the world via Prosthetic Records.
Horndal is, or was, a small industrial town in the Swedish woods. In the late seventies the steel mill that employed almost the entire population was threatened with closure. To protest against this a local theatre group wrote and performed a play about this disastrous event. The story portrays the devil coming to shut down the steel mill, leave the exploited factory workers to their fate and send the community to an early grave. Sadly the story came true. The factory was closed and the town left for dead. Long live Horndal.
2010-2016: Not straying far from his most notable roots, Fredrik "North" Norrman founded Thenighttimeproject — a pleasantly nostalgic road for those more familiar with his work in Katatonia. Joined by Tobias Netzell of In Mourning fame, along with Nicklas Hjertton, formerly of Mandylon, their self-titled debut album is released in January 2016. The album receives standing ovations from the press, and with a mix of rock, metal, progressive, doom, post-rock and psychedelic elements it is indeed an interesting ride for the listener.
2017: The band releases the single Anti Meridian. Mattias Norrman (October Tide) joins the band on bass. Later this year Tobias and Nicklas decide to leave the band due to lack of time.
2018: Joined by Jonas Sköld (October Tide, Letters From The Colony) on drums and vocalist Alexander Backlund (Letters From The Colony) the band is now working on the follow up to the debut album as well as rehearsing for live shows.
Köp biljett: 170 kr
På Spotify-listan nedan kan ni lyssna på alla artister som spelat på Garaget sedan starten 2006.
Vi får en del frågor angående medlemskapet, speciellt från personer som inte bor i närområdet. Så här ligger det till: Man måste vara medlem för att komma in på våra arrangemang. Att bli medlem är dock enkelt, klicka på "Bli medlem" här ovan, fyll i dina uppgifter så får du snart ett bekräftelse-mail med information om hur du går vidare. Ni kan då, vilket vi rekommenderar, betala in 250 kr för ett fullt medlemskap till bankgiro 5890-4038 eller swisha till 123 345 36 10. Ni kan också lösa ett "förenklat medlemskap", riktat till er som kanske inte bor i närområdet och/eller bara tänker besöka ett arrangemang i år. Ni får då betala ordinarie biljettpris + 100 kr för det "förenklade medlemskapet". Detta "förenklade medlemskap" kan nyttjas vid flera arrangemang (ni betalar alltså en förhöjd entré på 100 kr vid varje arrangemang ni besöker). Ska ni gå flera gånger så tjänar ni naturligtvis på att lösa ett fullt medlemskap.
Välkomna med er ansökan.