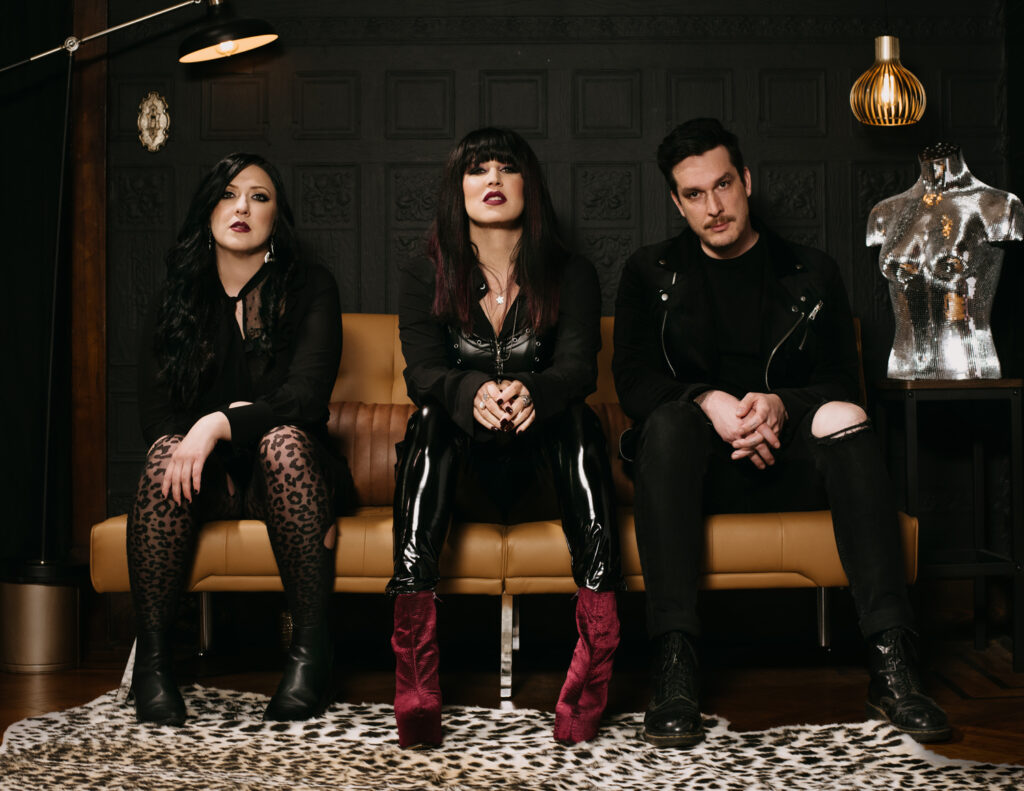 "Soraia is an extraordinary, exciting, and 'sure to make waves' band who I love and admire" – Joan Jett
Soraya – meaning "Bright, Guiding Star" from The Pleiades Constellation and meant to represent the raw power of the collaborative artistry that is Soraia. Soraia is a Philadelphia-based alternative rock n' roll /post-grunge outfit fronted by lead vocalist ZouZou Mansour (an expressive, big-voiced singer with a gutsy, edgy, gritty, forceful style). Loud, hard-rocking and aggressive yet highly melodic and hooky, Soraia brings a wide variety of '70s, '80s, and '90s influences to the table. L7, Concrete Blonde, Nirvana, Sonic Youth have affected Soraia's sound, as have the Pretenders, and Patti Smith. Another influence on Soraia is singer/songwriter PJ Harvey, although Mansour's vocals are not as stream-of-consciousness or as impressionistic; Mansour is more direct and to-the-point in her approach. And while Soraia is clearly part of a punked-out alternative rock live, the Philadelphians also get a great deal of inspiration from garage rock artists who were around before the rise of Nirvana and before the highly influential, mega-platinum Nevermind. Soraia is a band that has clearly benefited from Nevermind, although they realize that rock history did not start with that 1991 classic, and borrow more inspiration even from 60's garage rock, early 2000's garage revival – and the lyrics of artists such as Nick Cave, Tom Waits, and Patti Smith – though more introspective. Honing their craft and writing during the early years of formatiion, Soraia released a collaborative effort which came to be "In the Valley of Love and Guns"–co-written with Jon Bon Jovi, Billy Falcon, as well as fellow bandmate and co-writer, Travis Smith. Mansour and Smith's "Love Like Voodoo" would be the beginning of what has become rotation on "Little Steven's Underground Garage" radio station, and would begin their relationship with Steven Van Zandt (The Sopranos, E Street Band) which continues through this day.
Soraia followed this album with another studio effort, the paradoxically titled "Soraia Lives!" in 2014. The latter effort featured covers produced by Van Zandt with the band: David Bowie's "Cat People (Putting Out Fires with Gasoline)" and a punk read of the Kinks' "(I'm Not) Like Everybody Else" as a single; it spent ten weeks on the South American charts landing at #1 on Valentine's Day 2015. The EP Less Than Zero followed in 2015 amid avid touring activity, and a year later, the single "Electrocutioner" was picked by Little Steven Van Zandt's Underground Garage, Sirius/XM radio program as "#1 Coolest Song of the Year." Van Zandt also signed the band to his Wicked Cool label. In early 2017 Soraia entered his Renegade Nation Studios in New York City, where he produced two tracks: a cover of Prince's "Wow" and his own "Why," composed especially for the band. Soraia co-produced the rest of the album with Geoff Sanoff. The full-length Dead Reckoning followed in October 2017, and continued their relationship with Wicked Cool Records through the current day. Several singles and b sides as well as two more full length albums have been released, including 2020's "Dig Your Roots" and 2022's "Bloom"
Young Rich & Pitiful
Hedemorabandet Young Rich & Pitiful värmer upp.
Köp biljett: 230 kr http://www.kulturgaraget.se/medlem_login
Vi får en del frågor angående medlemskapet, speciellt från personer som inte bor i närområdet. Så här ligger det till: Man måste vara medlem för att komma in på våra arrangemang. Att bli medlem är dock enkelt, klicka på "Bli medlem" här ovan, fyll i dina uppgifter så får du snart ett bekräftelse-mail med information om hur du går vidare. Ni kan då, vilket vi rekommenderar, betala in 250 kr för ett helårs medlemskap till bankgiro 5890-4038 eller swisha till 123 345 36 10. Ni kan också lösa säsongsmedlemskap (jan-juni) eller (aug-dec) för 150 kr.
Välkomna med er ansökan